Heavy wear can leave teeth looking chipped, broken, or flat.  Teeth can look square or squattier than in our youth. Teeth grinding, eating acidic foods, decay, and aging can leave teeth chipped and faces looking much older. Whether the tooth loss or loss of dental function was caused by trauma, periodontal disease, decay, cracked or broken teeth, or badly worn teeth due to teeth grinding, we can help to rebuild a beautifully functional smile.
Rehabilitating a worn set of teeth can take years off our visage, but the cosmetic is just the icing on the cake because what is important is how well the teeth function. When we restore worn teeth, we repair the biting relationship that helps us eat food well, improving our diet and health.
So, what is Full Mouth Rehabilitation? It's the complete rebuilding and restoring of all teeth in both the upper and lower jaws when teeth are poorly formed, missing, or failing in function.
Because every patient has a unique history and dental conditions, the procedure time and dental procedures vary greatly. Typically, four visits are required.
During the initial visit, X-rays will be taken, a dental plan will be created, we will develop models for reconstruction, and if dental implants are involved, the dentist and an oral surgeon will decide the number and placement of the dental implants.
The second visit consists of dental work and dental implant placement if required. The dentist may use temporary dental bridgework or temporary dentures if dental implants are used.
The third visit may include additional dental work or a progress visit to check the healing. If dental implants are used, an impression of the implant abutments is taken and sent to the dental lab, where crowns or dentures are fabricated.
The fourth visit is where crowns or dentures are placed and adjustments are made.
Dental services and restorations that may be used during full mouth reconstruction include: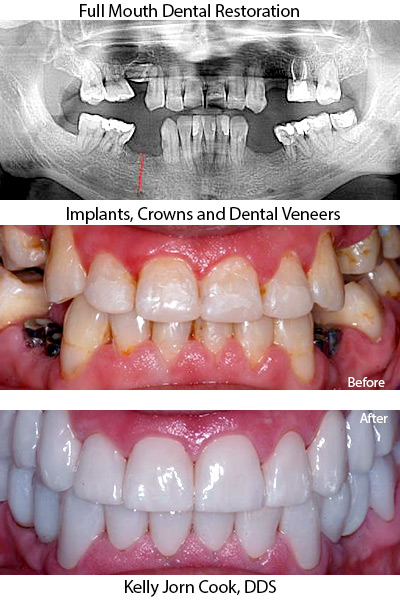 At Kelly Jorn Cook, DDS, our doctor works with expert ceramicists to create beautiful ceramic crowns to restore your teeth so you can look great and function well.
You are invited to schedule a free consultation today!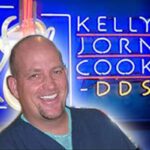 Chandler Cosmetic Dentist
Kelly Jorn Cook, DDS
3800 West Ray Road, Ste 19
Chandler, AZ 85226
Phone: (480) 899-4477 
https://www.kellyjorncook.com